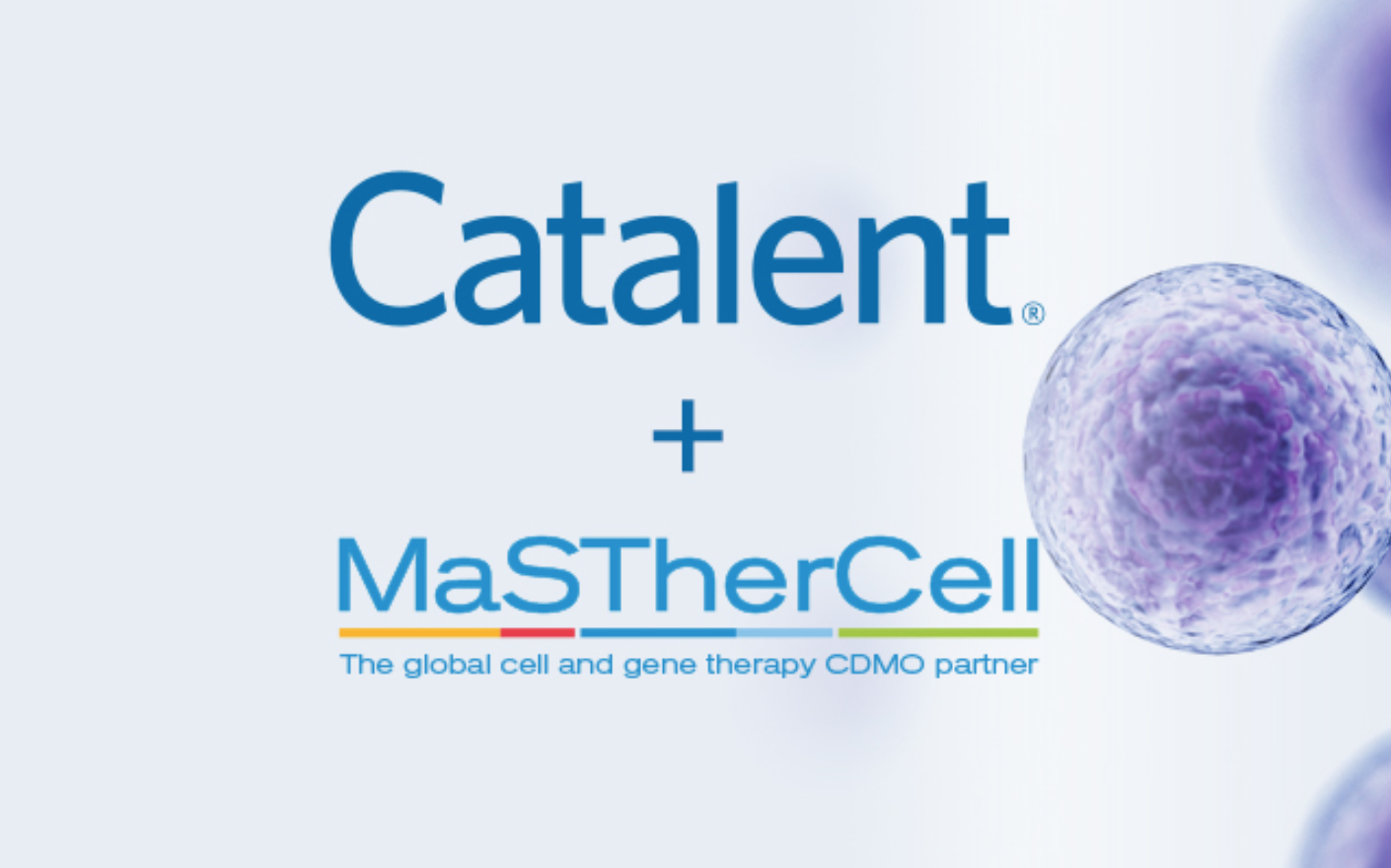 GOSSELIES, BELGIUM – February 3, 2020 — MaSTherCell S.A., a subsidiary of MaSTherCell Global, Inc., a subsidiary of Orgenesis Inc. (NASDQ: ORGS) a technology-focused cell and gene therapy contract development and manufacturing partner to leading cell therapy innovators, today announced an agreement to acquire MaSTherCell Global that has been reached between the owners of MaSTherCell Global and Catalent Pharma Solutions, Inc., the leading global provider of advanced delivery technologies, development, and manufacturing solutions for drugs, biologics, gene therapies, and consumer health products.
Founded in 2011, MaSTherCell S.A. has a 25,000 square-foot facility in Gosselies, Belgium providing clinical services. The growth of MaSTherCell S.A. in the past three years has brought new, high-quality biotechnology jobs to the Walloon Region of Belgium. During this period, SFPI, Orgenesis and Great Point Partners provided capital to help fund this growth.  Construction is in progress on a dedicated 60,000 square-foot adjacent commercial-scale production and fill & finish facility, which is scheduled to open in in the fall of 2021 and ultimately add over 250 new jobs to the current team of over 240 employees. As part of the overall transaction, Catalent will also acquire a 32,000 square-foot U.S. facility in Houston, Texas, which, upon completion of validation activities, will focus on development-scale projects. The MaSTherCell group of companies has a growing customer base and offers a unique portfolio of capabilities and technologies that include the development and manufacture of autologous and allogeneic cell therapies, as well as a variety of related analytical services. Its experience includes therapies based on chimeric antibody receptor-engineered T cells (CAR-T), T cell receptors (TCR), tumor-infiltrating lymphocytes (TIL), and mesenchymal stem cells (MSC).
Upon completion of the transaction, which is expected in the current, third quarter of Catalent's 2020 fiscal year and is subject to customary closing conditions, the synergy between MaSTherCell and Catalent will position the new entity as a leading cell therapy platform in the industry.
Denis Bedoret, MaSTherCell S.A.'s CEO, commented, "MaSTherCell is writing another page in its history. This was made possible thanks to the confidence our investors have had in our project. In particular, we would like to thank SFPI-FPIM, whose support has played a decisive role in the development of our activities. MaSTherCell intends to continue to pursue our shared goals of accelerating job growth in the region and spreading our expertise around the world. What's also particularly exciting is that this transaction, which will strengthen our service offering to our customers, will ultimately benefit patients who need innovative, life-saving therapies."
According to François Fontaine, General Advisor to MaSTherCell S.A. at SFPI-FPIM, "We are delighted to have supported the development of MaSTherCell over the last few years. It reflects the dynamism of the biotech ecosystem not only within the BioPark of Gosselies but also at the Belgian national level. Its acquisition by the Catalent group is an international recognition of the know-how and expertise of its teams in the field of cell therapy development and manufacture. MaSTherCell has also had a major societal impact for the Charleroi region and beyond through its stated desire to stimulate training and knowledge in a pioneering field of health."
More info on Catalent's website: https://bit.ly/3b5Zg6j
About Great Point Partners
Great Point Partners ("GPP"), founded in 2003 and based in Greenwich, CT, is a leading health care investment firm, currently with approximately $1.9 billion of equity capital currently under management and 28 professionals, investing in the United States, Canada, and Western Europe. GPP is currently making new private equity investments from GPP III. Great Point manages capital in private (GPP I, $156 million and GPP II, $215 million of committed capital, and GPP III which has $306 million in committed capital) and public (BioMedical Value Fund family, approximately $1.4 billion) equity funds. Great Point Partners has provided growth equity, growth recapitalization, and management buyout financing to more than 100 growing health care companies. The private equity funds invest across all sectors of the health care industry with particular emphasis on biopharmaceutical services and supplies, outsourcing and alternate site care, and information technology enabled businesses. The firm pursues a proactive and proprietary approach to sourcing investments and tuck-in acquisitions for its portfolio companies. Reach Great Point at 203-971-3300 or www.gppfunds.com.
About Orgenesis
Orgenesis is a biopharmaceutical company specializing in the development, manufacturing and processing of technologies and services in the cell and gene therapy industry. The Company operates through two platforms: (i) a point-of-care ("POCare") cell therapy platform ("PT") and (ii) a Contract Development and Manufacturing Organization ("CDMO") platform conducted through its subsidiary, Masthercell Global. Through its PT business, the Company's aim is to further the development of Advanced Therapy Medicinal Products ("ATMPs") through collaborations and in-licensing with other pre-clinical and clinical-stage biopharmaceutical companies and research and healthcare institutes to bring such ATMPs to patients. The Company out-licenses these ATMPs through regional partners to whom it also provides regulatory, pre-clinical and training services to support their activity in order to reach patients in a point-of-care hospital setting. Through the Company's CDMO platform, it is focused on providing contract manufacturing and development services for biopharmaceutical companies. Additional information is available at: www.orgenesis.com.
About SFPI-FPIM
SFPI-FPIM, the Belgian Federal Holding and Investment Company, was created on November 1, 2006 as a result of a merger between the Federal Participation Company and the Federal Investment Company.
The federal government is its sole shareholder. SFPI-FPIM centrally manages the federal government's shareholdings, cooperates with the government on specific projects and pursues its own investment policy in the interests of the Belgian economy. The core business of SFPI-FPIM is as an investment company, to invest in companies with an attractive added value for society in one of the SFPI-FPIM priority sectors. As a holding company, it acquires equity in companies that are of strategic importance as far as federal policy is concerned, either making use of its own funds or by using funds that the state provides for a project.
About MaSTherCell Global
MaSTherCell Global is a dynamic and global Contract Development and Manufacturing Organization (CDMO) with a mission to deliver optimized process industrialization capacities to cell therapy organizations and speed the arrival of their therapies onto the market. MaSTherCell currently operates in two locations in Gosselies, Belgium and one location in Houston, Texas.  At the heart of MaSTherCell is a team of more than 240 highly dedicated experts combining strong experience in cGMP cell and gene therapy manufacturing with a technology-focused approach and a substantial knowledge of the industry.  From technology selection to business modeling, GMP manufacturing, process development, quality management, and analytical assay development, MaSTherCell's teams are fully committed to help their clients fulfill their objective of providing sustainable and affordable therapies to their patients. For more information, visit www.masthercell.com.
About Catalent Pharma Solutions
Catalent Pharma Solutions is the leading global provider of advanced delivery technologies, development, and manufacturing solutions for drugs, biologics, gene therapies, and consumer health products. With over 85 years serving the industry, Catalent has proven expertise in bringing more customer products to market faster, enhancing product performance and ensuring reliable global clinical and commercial product supply. Catalent employs over 13,000 people, including over 2,400 scientists and technicians, at more than 35 facilities, and in fiscal year 2019 generated over $2.5 billion in annual revenue. Catalent is headquartered in Somerset, New Jersey. For more information, visit www.catalent.com
Contact us to get more information:
Press release: https://masthercell.com/masthercell-s-a-announces-agreement-for-catalent-to-acquire-the-masthercell-group-of-companies/