Belgium and its companies at the forefront of the biotechnology industry in Europe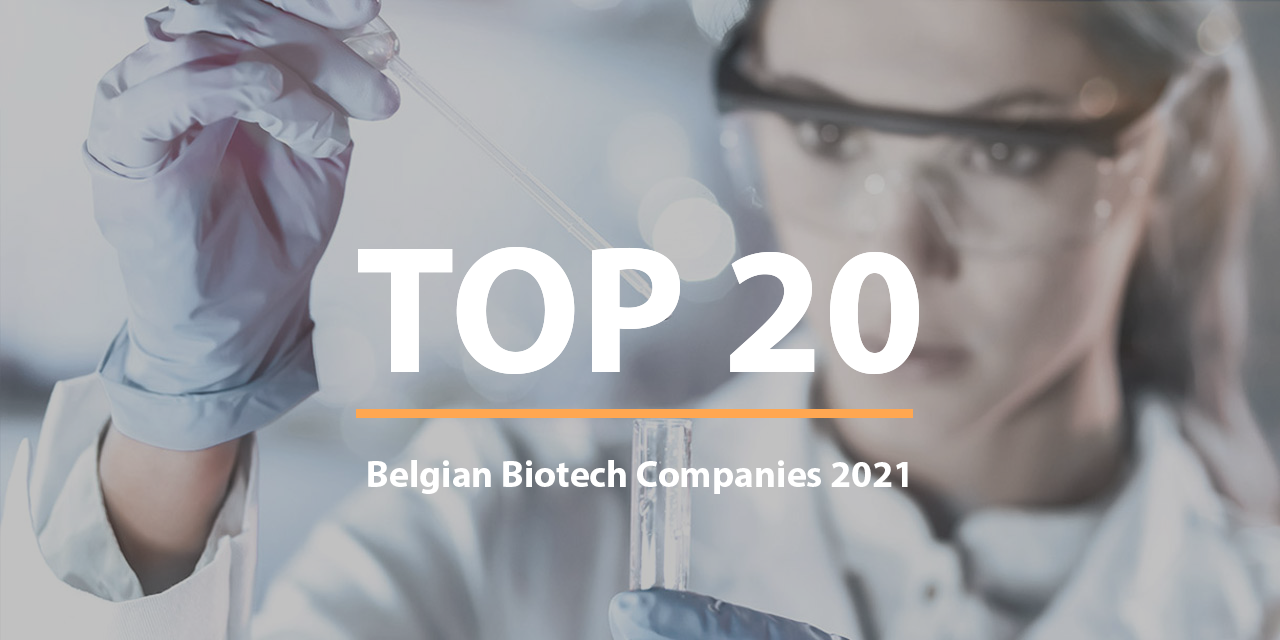 Belgium is spearheading the European biotech industry. Meet some of the most successful cases of Belgian biotechnology companies.
Belgium is one of the countries that provide the most to the biotech industry in Europe, as it has a total of more than 140 companies in this sector and a strong and up-to-date network of universities and research institutes that have an intensive exchange of knowledge and creation of new clusters driving further the development in the sector. Currently, Belgium has almost 25% of the market value of biotechnology in Europe, ahead of countries as Denmark, Germany, and Spain.
All this solid growth is recognized globally, and we can see this in a lot of larger companies that having acquired Belgian biotechnology enterprises in recent years. Three examples of this are:
---
Want to receive this kind of business and scientific articles to your inbox each month for free? >>> Subscribe to our Life Science & Technology customized newsletter! <<<
---
Experts from the Belgian biotech industry have stated that the companies listed below, based on their achievements and innovations, are beyond the most successful biotechnology companies in Belgium:
Location: Ghent
Founded: 2017
AgomAb is developing molecular therapies for the regeneration of damaged tissues. Their Unique agonistic monoclonal antibody molecules ("agomAbs") stimulate molecular and cellular repair mechanisms that have the potential to restore organ function in patients with fibrotic, inflammatory, autoimmune and degenerative diseases.
Led by Belgian investor V-Bio Ventures and Advent France Biotechnology, AgomAb has completed a Series A financing round of 21 million euro in 2019 to test various treatments for various clinical trials.
Location: Aye
Founded: 2018
atbtherapeutics is a private company with seed financing from Financière Spin Off Luxembourgeoise, the Fournier-Majoie Foundation, Noshaq and Luxembourg Development.
atbtherapeutics is a pioneering biopharmaceutical company building a pipeline of antibody–toxin-bioengineered 'atbodies'. The atbody is a novel therapeutic format that can only be achieved using our proprietary plant-based atbiofarm technology.
Location: Mechelen
Founded: 2007
Biocartis is an innovative molecular diagnostics company committed to revolutionizing molecular testing with its unique proprietary IdyllaTM platform. They provide next generation diagnostic solutions, aimed at improving clinical practice for the benefit of patients, clinicians, payers and the healthcare industry, with a focus in oncology which represents the fastest growing segment of the MDx market worldwide. Today, Biocartis offers tests supporting melanoma, colorectal and lung cancer, as well as tests for SARS-CoV-2 and sepsis.
In January 2020, Biocartis went into a cooperation with AstraZeneca to utilize its diagnostics innovation for various undertakings, including sign and biomarker testing. Its mechanized PCR test for Covid-19 was affirmed in the EU last November and is anticipating the green light from the FD.
Location: Marche-en-Famenne
Founded: 2013
Since its creation, Bioxodes has been building up its lead program dependent on the Ir-CPI molecule for the prevention of thrombosis. Being the first in a novel class of antithrombotics, Ir-CPI is conceivably the world's first injectable molecule which could be utilized on the whole patients bunches without causing significant degrees of bleeding and without waiting to be turned around or cleaned out toward the end of critical procedures.
Bioxodes portfolio further includes preclinical drug discovery programs in the areas of inflammatory diseases and cardiovascular medicine.
Bioxodes owns issued and pending patents related to Ir-CPI in the EU and US. Bioxodes is committed to the ongoing expansion, broadening, and development of its intellectual property portfolio.
Location: Ghent
Founded: 2013
Biotalys underpins feasible food creation with an innovation dependent on proteins called agrobodies. These incorporate bio-fungicides, bio-insect poisons, and bio-bactericides, which have been created to handle a scope of yield irritations and sicknesses.
The organization is anticipating its first item, a bio-fungicide against fine mold, to enter the US market in 2022. In 2019, Biotalys brought €35M up in a Series C financing round, firmly followed by another €10M in mid 2020. The finances will help the turn of events, enormous scope creation, and commercialization of its driving bio-fungicide item, just as the extension of its revelation stage.
Location: Gosselies
Founded: 2006
Bone Therapeutics creates cell treatments for bone illnesses. While these conditions regularly require invasive medical procedure, the organization's cell treatments can be conveyed near harmed bone in a considerably less intrusive way.
In 2018, Bone Therapeutics endured a difficulty after an exploratory cell treatment neglected to show any critical advantages in an interval examination of stage IIl results and the preliminary was suspended. The organization proceeded to zero in on creating off-the-rack cell treatments produced using bone marrow cells of sound contributors. The innovation is as of now in stage IIa and stage IIb preliminaries for lumbar spinal combination and troublesome cracks, individually.
Location: Mont-Saint Guibert
Founded: 2004
Celyad is one of Europe's biotech monsters. The organization is one of the main immuno-oncology major parts in the field. Its lead CAR T-cell competitor, presently in stage I preliminaries, is an off-the-rack treatment that comprises designing insusceptible T cells to convey a malignant growth distinguishing receptor normally found on another sort of resistant cell called common executioner cells.
This receptor can tie to eight unique targets found on malignancy cells in 80% of strong and fluid tumors. Also, it can perceive various targets found in the tumor microenvironment, which assumes a major part in dodging the safe framework.
Location: Ghent
Founded: 2008
Complix creates alphabodies, which are little designed proteins that can tie to various focuses to address an assortment of signs, including malignant growth, immune system issues, and viral infections. These alphabodies can discover focuses that are typically unavailable for ordinary medications, like antibodies or little atoms.
Presently, the organization is zeroing in on creating therapies for malignancy and Covid-19. In October 2020, Complix got €1.2M to help the advancement of another class hostile to Covid-19 alphabody therapeutics.
Location: Ghent
Founded: 2015
Situated in Ghent, Confo Therapeutics creates drugs that target G protein-coupled receptors (GPCRs), which are a huge group of proteins that assume a part in various illnesses yet are hard to tranquilize.
GPCRs are frequently difficult to separate the lab since they are flimsy in vitro. The organization has built up an innovation that keeps GPCRs steady, empowering the mass screening and distinguishing proof of GPCRs in various infections. Thus, scientists can distinguish once undruggable targets and create meds in like manner.
In 2019, Confo Therapeutics brought €30M up in a Series A financing round to take its medication applicants into clinical preliminaries. It means to begin the first-in-quite a while in 2022.
Location: Niel
Founded: 2013
eTheRNA is creating off-the-rack immunotherapies utilizing courier RNA (mRNA) innovation. Its lead applicant is a mRNA immunization for metastatic melanoma that is right now in stage I/II preliminaries. In an interaction called immunostimulation, the treatment 'educates' dendritic cells to help an intense T cell-interceded safe reaction against melanoma.
In June 2020, eTheRNA stood out as truly newsworthy when it brought €34M up in Series B financing. The cash will be utilized to advance its restorative mRNA Covid-19 immunization up-and-comer and malignant growth immunotherapies to the facility.
Location: Ghent
Founded: 2020
ExeVir Bio is creating nanobodies, a special kind of antibodies found in camelids like llamas, to be utilized in patients with Covid-19 and against other Covid sicknesses. Nanobodies have various benefits over customary human antibodies, including a more modest size, more accuracy, and more noteworthy strength. In July 2020, the startup rounded up €23M in Series A financing to support the advancement of these medicines.
Location: Mechelen
Founded: 1999
An innovator in European biotech, Galapagos is settled in Belgium yet has offices all over Europe, remembering for the Netherlands, Germany, France, Switzerland, Italy, Spain, and the UK. The organization grows little particle drugs for provocative illnesses and fibrosis.
One of Galapagos' star bargains is with Gilead, which joined €4.5B to Galapagos in 2019. In October 2020, the accomplices' first rheumatoid joint inflammation drug filgotinib was affirmed in Europe and Japan. Nonetheless, the FDA dismissed the medication in August, provoking Gilead to leave the improvement of filgotinib in Galapagos' grasp in December.
Filgotinib has a place with a class of medications that block Janus kinase (JAK) proteins connected to incendiary cycles. Filgotinib specifically targets JAK1, giving it a preferable wellbeing profile over other JAK inhibitors, which are less particular and can debilitate the resistant framework.
Location: Liège
Founded: 2010
Imcyse comes from the KU Leuven University. Imcyse works in the field of autoimmune diseases and has developed immunotherapies based on synthetic peptides called imotopes. These peptides can block the immune response that triggers immune-mediated diseases including type I diabetes, multiple sclerosis and rheumatoid arthritis.
In 2021, Liège-based biotech company Imcyse concluded this Wednesday a new 21.3 million euro round of financing by welcoming, on this occasion, the American pharmaceutical giant Pfizer in its capital.
Location: Gosselies
Founded: 2011
MaSTherCell ("Manufacturing Synergies for Therapeutic Cells") is a service company (CDMO) dedicated to the industrialization of cellular therapies. MaSTherCell thus offers complete services from development to logistics, quality management (quality control and quality assurance) and production.
Location: Mont-Saint-Guibert
Founded: 2013
Novadip is a side project organization from Université Catholique de Louvain (UCLouvain) and St. Luc University Hospital. The formation of Novadip was upheld by the Louvain Technology Transfer Office (LTTO), Sopartec and VIVES II.
Utilizing the interesting 3M3 tissue recovery stage, which utilizes adipose-derived stem cells within a 3-dimensional extracellular matrix, to drive various item classes, Novadip's main goal is to give imaginative answers for patients with restricted or no powerful treatment alternatives.
Location: Gosselies
Founded: 2012
OncoDNA is a Belgium-based organization focusing on exactness medication in oncology. The organization means to give malignancy atomic profiling to individualize treatment choices.
In September 2016, OncoDNA brought EUR 7.7 million up in private value. The new offers were bought in by both the chronicled investors (IPG/bio.be, Invest4OncoDNA, Sambrinvest, and Vinsovier) just as a gathering of four new financial backers (Sofinim NV, an associate of Ackermans and van Haaren, SRIW, CPH, and Inventures).
Location: Liège
Founded: 2014
Initialy a spin-off of the French Blood Bank (Etablissement Français du Sang, EFS), PDC*line Pharma is a Belgian-French biotech company that is developing a novel class of off-the-shelf cancer immunotherapies based on a proprietary Plasmacytoid Dendritic Cell line (PDC*line) pre-loaded with peptides that are derived from target tumor antigens. Based on a robust preclinical package and a first-in-human phase Ib feasibility study in melanoma, PDC*line Pharma is focusing on lung cancer with a new candidate in phase I/II clinical trial (PDC*lung) and neoantigens (PDC*Neo). 
In February 2020, the first patient with non-small cell lung cancer has been dosed with PDC*lung01.
Location: Mont-Saint Guibert
Founded: 2009
Promethera Biosciences creates immature microorganism medicines for patients with late-stage liver illness who are needing a transfer. The organization plans to either give an option in contrast to a transfer or balance out the patient's condition adequately long to empower them to get a transfer.
Promethera's driving cell treatment, which is as of now in stage II preliminaries, is composed of liver cells taken from solid, given organs and afterward extended in the lab. The cell treatment is managed intravenously and afterward conveyed to the liver by means of the circulation system where it causes the liver to fix and recover itself.
Location: Antwerp
Founded: 2017
Rewind Therapeutics creates treatments for numerous sclerosis and different illnesses identified with myelin — a segment of the sensory system that supports nerve cells. In sicknesses like various sclerosis, the myelin around the nerve cells is assaulted by the resistant framework, which harms the nerves and disables muscle development.
Rewind Therapeutics brought €2.9M up in 2019 for the disclosure and improvement of novel medications that target myelin-related neurological illnesses.
Location: Gosselies
Founded: 2013
Univercells develops biomanufacturing platforms and solutions that make biologics more available and affordable than they currently are. 
For example, while quality treatments have acquired energy as of late, the creation of viral vectors, the key structure squares of quality treatments, stays expensive and hard proportional up. Univercells has built up a semi-mechanized biomanufacturing stage that bolsters the creation of viral vectors at decreased expenses. In February 2020, Univercells raised €50M to help its viral vector producing offices and bioreactors.
---
beLean.net has supported 40% of this TOP 20 as part-time CFO, and 72% of the Walloon biotech companies listed above!

beLean.net is a CFO-as-a-Service offering long-term support in strategy, finance and management for entrepreneurs and investors active in Life Science & Technology.

We are the Walloon reference accelerator in the field of health biotechnology and medical technologies active in Europe. Our mission as part-time CFO is to support our clients to free them up time so that they can focus on their core business. >>> Discover our services <<<

Need support in finance management?
---
Sources:
Contact us to get more information: